Excel Spreadsheets
Our tailored excel spreadsheets are easy to use, efficient and most importantly, time-saving. When signed in on EmailXpenC.com, you will find your personalized Excel templates available for download.
To create an expense report, simply download your personal expense template from 'My Expenses -> Downloads'.

Choose the template which fits your needs and click "Download". In a few seconds you will find the downloaded template on your computer.
Open the file, allow editing the file and enable macros.
Macros are used to automatically check that you are using the most recent version of the template and update all the data in the template. Macros are also used for storing the receipts into the template and sending the report to SAP Concur. See using the templates without macros if you wish not to enable macros.
Start creating the expense report by selecting the expense type and filling in the expense information. The standard templates do include only the basic expense information. Any custom fields that may be used in your SAP Concur expense forms can be added to a customized expense template that are available for our company customers. Read more about custom expense templates.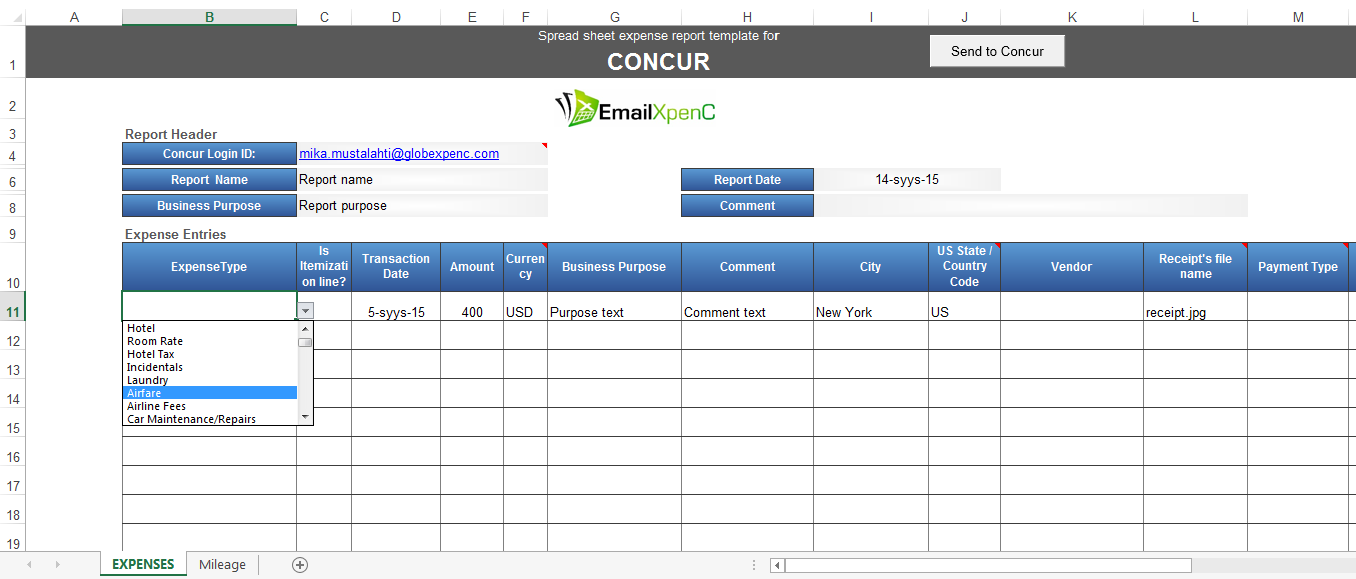 Itemization
The expense entries can be itemized using the "Add/Change itemization" cell besides the Expense Type field. Insert the desired number of itemization rows and press enter.
Attendees (Company customers only)
Attendees can be added to the expense entries by selecting "Attendee" into the Expense Type field right below the expense entry row. You can add multiple attendee rows below the entry. All attendee rows will be added to the first expense entry above them.
Receipt Images
To attach snapshots of your receipts to the expense report simply click on the "Receipt's file name" cell and choose the image from your computer. The filename will appear in the cell and the image will get attached into the template.
Send to SAP Concur
To send your report to SAP Concur just click the button "Send to SAP Concur" in the top part of the template. Your expenses and any receipts attached will be sent to SAP Concur and you will receive a Confirmation Email. Confirmation email will include a button for submitting the report for approval.
Mileage reports
For mileage reports, download our dedicated Mileage template or combined Expense & Mileage template from 'My Expenses -> Downloads' section. If you downloaded combined template, you will find the "Mileage" sheet in the worksheet tabs.
Simply type in the mileage information and send your report to SAP Concur with the macro button.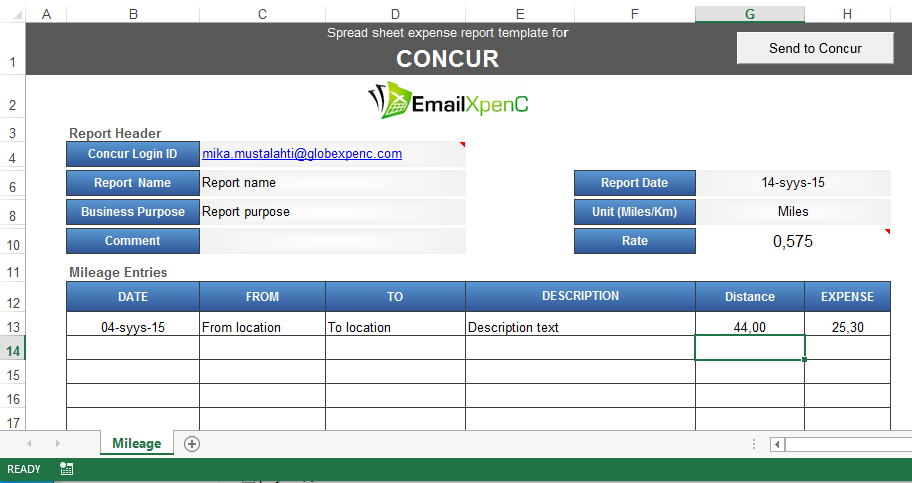 Using a template without macros
When using a template without macros the process differs a bit. When adding a receipt for your expense you need to write the name of the receipt file into the "Receipt's file name" cell instead of being able to browse the receipt from your computer. When sending the report to SAP Concur you will need to email the template and any named receipt files as attachments to reports@emailxpenc.com.
Custom Excel templates
Customized Excel® templates and company spreadsheet conversions are available for our corporate customers. If your business requires custom fields, visual customization, added columns or other custom features, we are glad to tailor the template to suit your needs. For more information, please contact sales@globexpenc.com.
Fast Inserts by Email
Sending expense reports by email is both simple and fast. Simply type the expense information directly into email and send it to reports@emailxpenc.com along with the receipt. Instead of sending your receipts into receipt store you can send them directly into an expense report.
Start new report
The message below would create a new expense report with one expense line in it. The expense report will be named after the email subject, "New York sales conference" in this case. An Airfare expense will be added into the report with amount of 250 USD, location "New York" and description "Boston-NY flights". The expense date will be the current date.
Update existing report
Emails can be also used to quickly update your previously started expense report.
In the message below the subject "Update" will make EmailXpenC to add a new expense line into your previously created expense report. It will add a Dinner expense with amount of 50 USD, location "New York" and description "Client Dinner"
Expense syntax for emails
The syntax for the expense lines is:
Expense Type; Amount; Location; Description
Additional attributes such as date, receipt, comment, etc. can be easily added:
Expense Type; Amount; Location; Description; date: 5/11/2014; receipt: attached_receipt.jpg; comment: comment text
Usually you don't need to specify the receipt for the expense it is enough that you attach the receipt into the email. Receipt needs to be specified only when using receipt capture and if you are sending multiple expense lines in one email, then you need to specify which attached receipt will belong to which expense line.
Report header information can also be included:
Comment: Example comment
Concur login: example@example.com
Expense Type; Amount; Location; Description; Attribute1; Attribute2
Also attendees, itemizations and mileages are supported. Learn more about email expensing from the user guide.
Capture Email as Receipt
Directly forward an email (such as flight itinerary) to be captured as a receipt.
Note: Add expense information on the first line of the email and add an attribute receipt: capture.
Confirmation Email
After sending the report, you will receive an email with a summary of your expense report and a link to submit for approval.
The email also notifies you of any possible errors and gives instructions on how to resolve them. Your reports will only be submitted after they have been screened and have received your approval.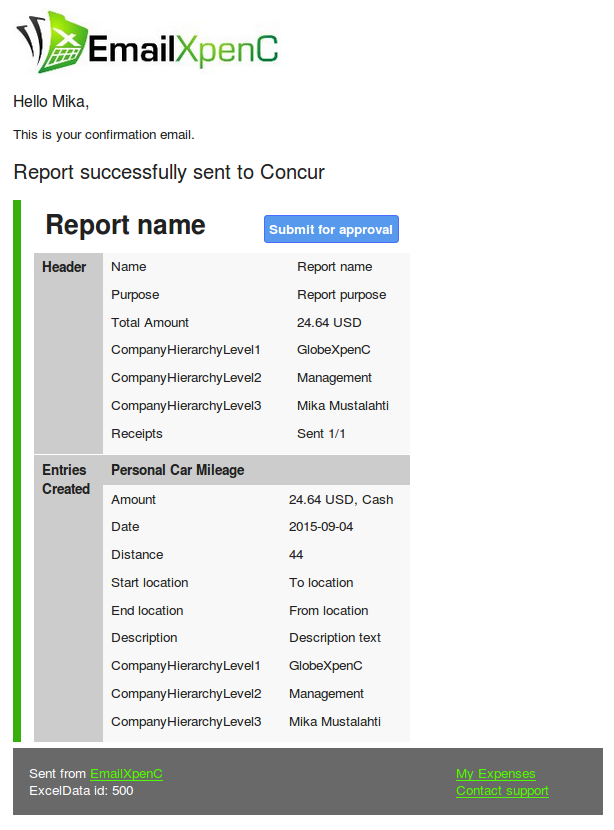 LogMyDrive Integration
EmailXpenC Integrates into LogMyDrive allowing you to pull your mileage data from LogMyDrive into your EmailXpenC Spreadsheet. Our Mileage spreadsheets have a simple button for fetching the mileage data from LogMyDrive. See the picture below.

The button opens a form where you can define the date range for the fetch and a few other parameters.

From date is by default the date of the previous succesful fetch, or the beginning of the last month if it is your first fetch.
To date is by default the current date.
Include previously fetched data option can be used for refetching data that has already been fetched previously. By default one mileage event is only fetched once.
Clear the sheet before fetch option will erase all the existing mileage data from the template once you press the Fetch button. This option is set on by default.
With LogMyDrive and EmailXpenC your monthly mileage reporting will be simple and convenient.
Personal Users: EmailXpenC Mileage functionality works with the standard SAP Concur mileage expense type. If your company has a customized mileage expense type or your company uses 'Variable Rates' configuration, we cannot send mileages to your SAP Concur account.
Corporations: For corporate customers we will always be able to work out a solution for mileage reporting. If everything else fails, we can always create a new custom expense type to be used with the imported mileage expenses.